Shutterstock, Inc., a leading global technology company offering a creative platform for high-quality content, tools and services, today launched its ninth annual Creative Trends Report, identifying global and local trends that will influence design aesthetics and visual culture in 2020.
According to eMarketer, growth in average daily time spent with video increased by 11% among users in 2018, making it the fastest-growing digital media activity. The increasing consumption of visual media challenges brands to keep up with sharing compelling visual content that engages their target audience.
This was originally at the www.fashiontrend.com and the report provides data-led insights for brands, marketers and creatives to keep their content fresh and relevant, and to drive better performance for their marketing campaigns.
The three major creative trends for 2020 include:


The Roaring 2020s – a century after the loud and lavish 1920s, the look that defined an era is back and on the center stage globally in 2020. Searches for "gold pattern" are up 4223% year-over-year and "20s retro" saw an increase of 189% from the previous year.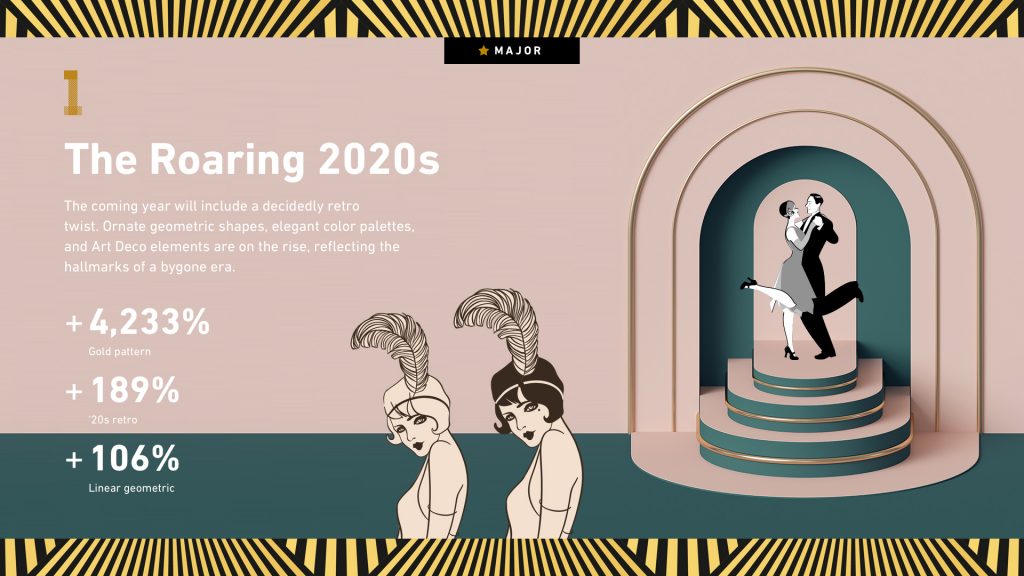 Keywords: Gold pattern +4223%, '20s retro +189%, Linear geometric +106%.
What to look for: Art deco, Linear geometric, 1920s. Look to the coastal influence of Miami Art Deco for a twist on this iconic style.
---
Occulture – alternative faiths and age-old beliefs are enchanting Millennials, Gen Z and Gen Alpha, showing renewed interest in mainstream channels and on social media networks in particular. Customers are searching for keywords like "magic" and "spiritual" an impressive 525% and 289% more respectively over last year.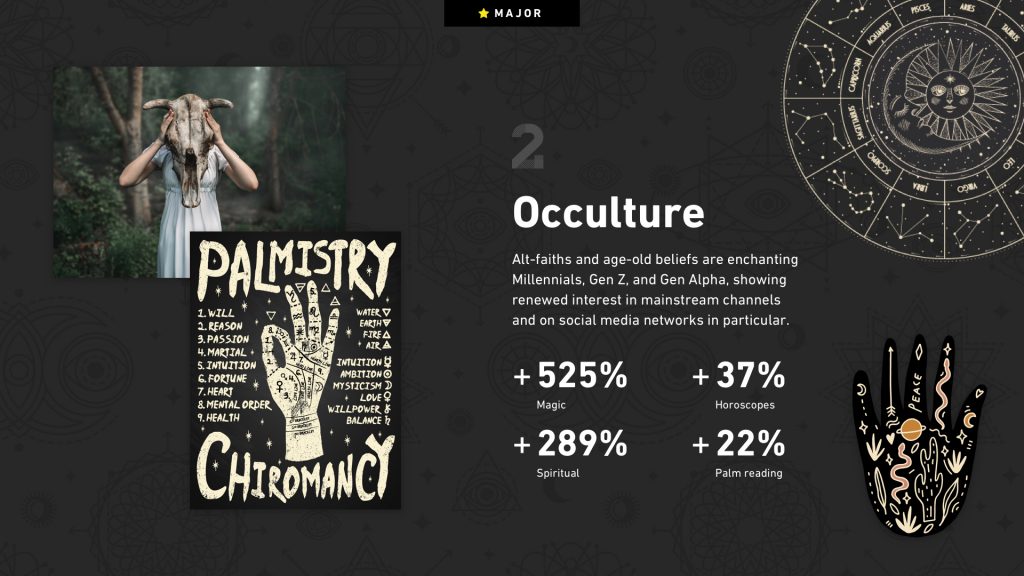 Keywords: Magic +525%, Spiritual +289%, Horoscopes +37%, Palm reading +22%.
What to look for: astrology, occult, magic illustration. Both playful and powerful, the occult can lighten the mood—or darken it.
---
In Full Bloom – forget elegant arrangements and delicate displays. The floral visuals of tomorrow are big, bright and in full bloom. The 141% surge in searches for "flowerscape" and 136% uptick for "bloom" make this a vivid trend for the year ahead.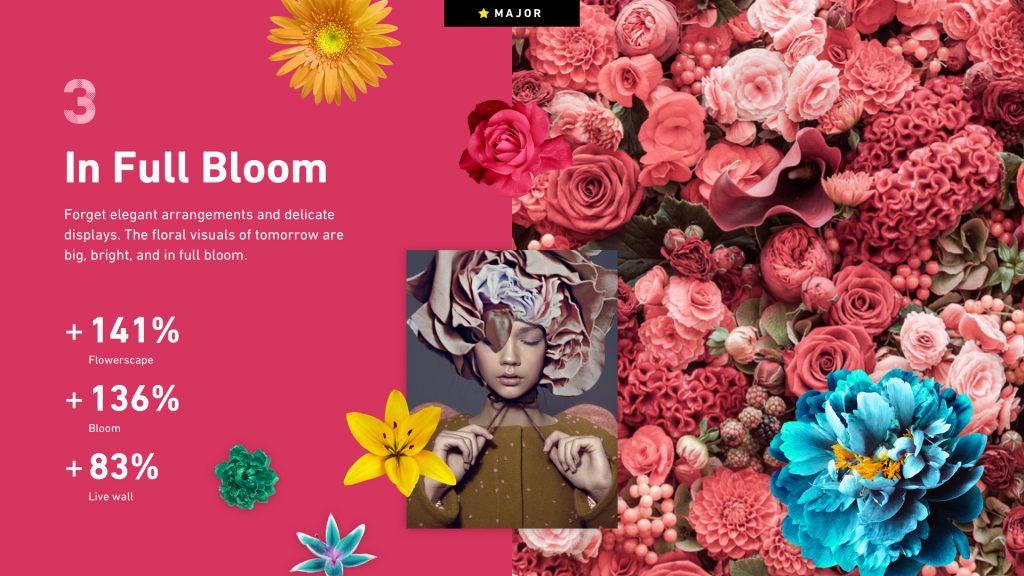 Keywords: Flowerscape +141%, Bloom +136%, Live wall +83%.
What to look for: live walls, multicolored flowers, flower letters. These flowers don't just show up-they show off.
This year's data points toward the pursuit of meaning, happiness, and opportunity in new creative projects-traits that may be reflective of the uncertainty in our climate and the year ahead.
— Lou Weiss, CMO at Shutterstock.

This year's report not only offers hand-curated collections for each of the trends from Shutterstock images, video and music, but also includes images from Offset and Shutterstock Editorial as well. In addition to the three major trends, the report outlines local favorites in 25 countries around the world, as well as, five rising trends that promise to gain traction in 2020. Rising trends range from design mainstays like "minimalistic black" and traditional arts including "Chinese ink painting" to elegant photography and modernized visuals such as "wild life" and sports photography. The annual report analyzes data gathered over a 12-month period from billions of customer searches for images, footage, and music content.
Minimalist Black – Minimalism reigns and black is hogging the spotlight (or lack thereof). In 2020, designers will lean into black's depth and contrast to create powerful experiences. Meanwhile, new and darker shades of black will allow artists endless options for stunning, unprecedented minimalism.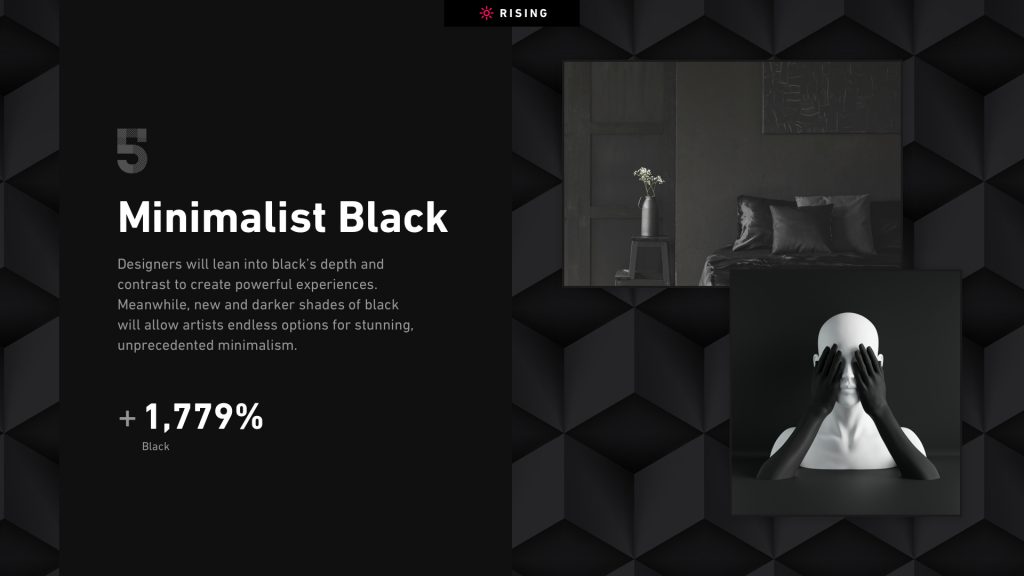 Keywords: Black +1779%.
What to look for: minimal black, black texture, abstract black background. Dark mode is in vogue, both on-screen and off.
---
Wild Life – A new generation is answering the call of the wild, and they're documenting their experiences at unprecedented levels. Outdoor adventure has been growing in popularity, as both a hobby and a visual subject. The resulting imagery captures the moodier side of nature and its power over our emotions.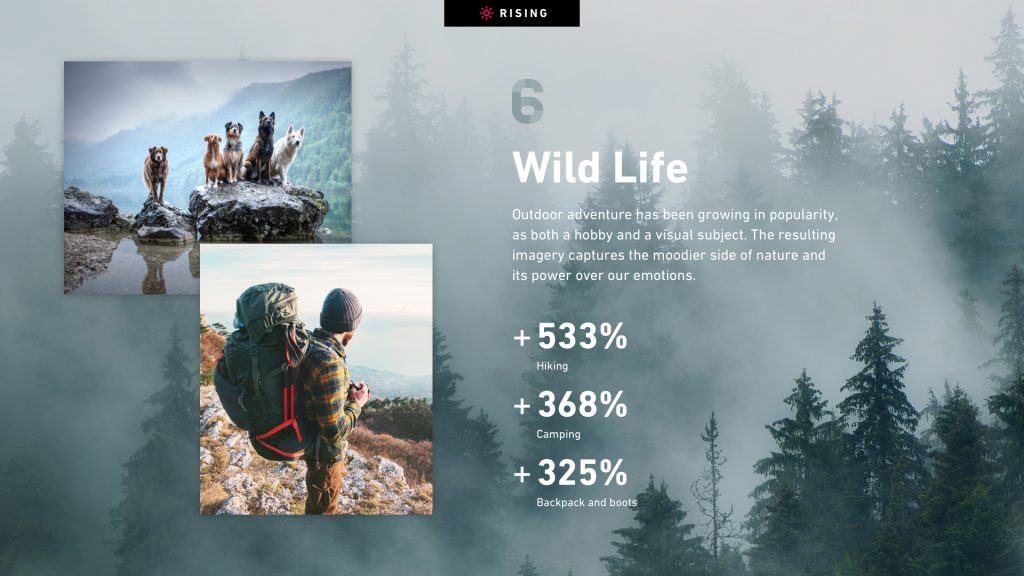 Keywords: Hiking +553%, Camping +368%, backpack and boots +325%.
What to look for: wild journey, outdoor adventure, camping. Fog-laden valleys, wintery mountain passes, and stormy seas set a vivid scene for this trend.
---
Chinese Ink Painting – With increased interest in calligraphy, modern artists are also turning to the similar brushwork of Chinese painting. One of the oldest art forms, Chinese ink painting captures a subject's true spirit, or rhythm. Though they can be sparse, these paintings are loaded with metaphors.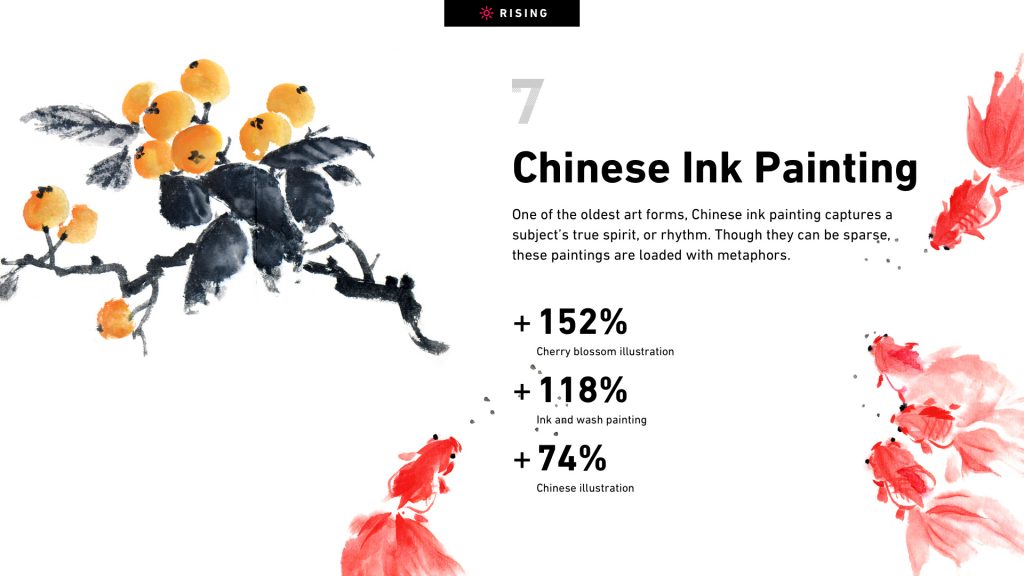 Keywords: Ink and wash painting +118%, Cherry blossom illustration +152%, Chinese illustration +74%.
What to look for: Chinese ink painting, ink wash, Chinese symbols. Ancient symbols of fortune, prosperity, and longevity get a modern look.
---
Game On – With searches increasing for sports and fitness keywords, 2020 is on track to be a game-filled year. Sports photography can depict stories of strength and perseverance that appeal to global audiences. Sweat and pain, triumph and loss-these images reveal the determination of the human spirit.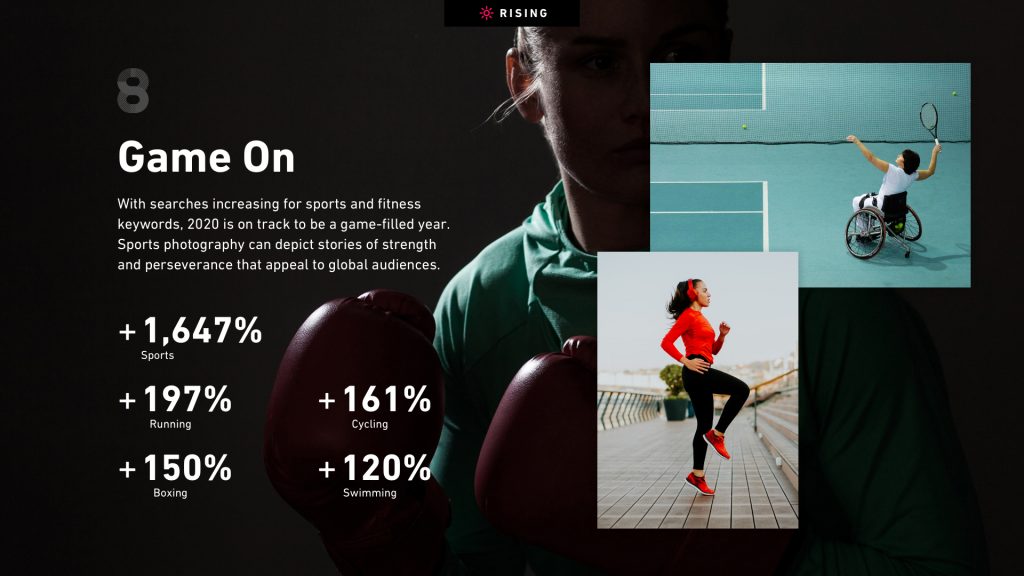 Keywords: Sports +1,647%, Running +197, Cycling +161%, Boxing +150%, Swimming +120%.
What to look for: Athlete, Sports action shot, active sport. Athletes are using their sport as a platform for empowerment and a catalyst for change, creating powerful stories.
The analysis, which is grounded in data from billions of keyword searches made by marketers, social media managers, video producers and designers, provides a glimpse into the creative trends that we expect to engage consumers on a much bigger scale. It also serves as a source of inspiration for our customers and contributors as they develop creative projects in 2020.
— Lou Weiss, CMO at Shutterstock.
For more information, please visit www.fashiontrendsetter.com or www.shutterstock.com and follow Shutterstock on Twitter and on Facebook.